If you're new to ecommerce SEO or just looking for fresh tactics to drive traffic to your store, this article has a little bit of everything for all levels of expertise.
Getting more traffic to your ecommerce store is one of the best ways to get in front of new customers, but growing your traffic is easier said than done.
You could go the route of digital ads, but with Product Listing Ads (PLAs) becoming more expensive by the day, it's just not feasible to get into keyword bidding wars with larger ecommerce brands. This is where ecommerce SEO comes in.
Search Engine Optimization (SEO) is one of the best opportunities for becoming less reliant on paid channels, ranking higher in Google searches, and getting more organic traffic to your website.
Tap on one of the 11 tips below to skip ahead:
1. Optimize your website and listings for keywords
Before diving into anything too technical on your website, you want to make sure your products and webpages are optimized for keywords that your target audience may be searching for. When thinking about your keyword plan, here are some things to consider:
Put yourself in the customer's shoes. If you were a customer searching for your product, let's say winter boots, what are some of the keywords you imagine they'd be searching for? These would be commercial keywords like "winter boots sales", "deals on winter boots", "winter boots for women", and so on. Working backwards can help you plan out keywords and get a better understanding of how your customers are discovering you.
What is the keyword intent? We discussed examples of commercial keywords, but there are other types of keywords known as informational and navigational keywords that will return different types of results on Google. For example, "how to care for winter boots" is likely informational blogs and "winter boots in Boston" is local stores.
How stiff is the competition? Not all keywords have the same level of competition on Google. Typically shorter keywords have higher monthly searches but are more expensive to bid on and harder to rank for, whereas longer keywords could have lower monthly searches but may be easier to rank for. It really depends on the type of search, but a savvy digital marketer will use tools and data to plan ahead. Google Keyword Planner is an example of a free tool any Google merchant has access to. See the example below using scooters:
You'll get good keyword ideas, traffic estimates, and bidding estimates from this free tool, but if you have the budget, a paid tool like Ahrefs or Semrush will provide you with more in-depth insights into keywords, traffic trends, and where your competition stands. See the Ahrefs example below using our 'winter boots' keyword:
Regardless of which tool you use, come up with a plan of action for targeting more keywords on your product and webpages. Include keywords in product descriptions, category pages, FAQs, and product titles when necessary. Don't overload it, but be mindful of it when publishing your product pages not to miss out on keyword opportunities.
2. Make your product page experience enjoyable
Now that you're baking keyword research into your plan, it's time to look over your product pages to see how you can improve the customer buying experience.
You may be asking, is this actually an ecommerce SEO factor? It is. Google has enhanced its search many times over recent years to include the highest quality content near the top of its results, and ecommerce is no exception.
Google implemented its E-A-T (Expertise, Authoritativeness, & Trustworthiness) guidelines in February 2019 to nudge brands to be more intentional about the content they're posting. To focus on quality when publishing. To be as informative and truthful to its audience as possible. This not only raised the standards for brands everywhere, but especially ecommerce brands.
Note: Because ecommerce brands accept online payments, they fall in the category of YMYL (Your Money, Your Life) websites. It's noted that YMYL websites should be extremely mindful of E-A-T guidelines.
After scrolling through just one of their products, there are a few things to point out 
Plenty of product images in different colors and sizes with descriptions about the models used in each image.
Video footage of the product in action.
Descriptive about the product fabric, sustainability, and where they source their materials.
Features about the product, such as its zipper mechanism, pocket details, sleeve construction, climate rating, and much more.
Quotes, ratings, and reviews of real product users.
Patagonia is just one example of a brand that is mindful of their product content, and is thus rewarded for it with higher rankings in Google and ultimately increased sales. Think of a few of your favorite product and checkout experiences, and borrow some content ideas to improve the buying experience on your website.
3. Use structured data markup for Rich Snippets
With your product content improved, it's time to move onto some technical features you can start adding to your ecommerce website. One of the most important features you should look to add is structured data markup.
In short, this markup provides even more details about your product before a user even lands on your website. It also helps you rank for Rich Snippets, a type of Google search feature that's common in the ecommerce world. See below to get an example of what this looks like:
Star ratings and review count are vitally important for SEO, but also important for getting more click-throughs when you show up in search results. Data referenced in Search Engine Journal revealed that almost half of consumers wouldn't look twice at a product with less than 4-stars.
How do I add structured data markup?
There are two ways to get structured data to start showing up for your products. The first way is to manually add it. If you're technically savvy and want to give it a shot, Google has a great article breaking down ways to do it yourself along with code you can copy and paste.
The second way is through an app plugin. If you have a Shopify storefront, here are some of the top structured data apps to consider adding to your store. The upside to this is that markup is added automatically to your products. The downside is that you'll likely have to pay a monthly fee for these apps.
4. Improve your website navigation and structure
While every ecommerce site is different, the average amount of time a user spends on a website before deciding to leave is 10-20 seconds. If your site is hard to navigate, if your categories are disorganized, if users aren't drawn to your brand within that time frame, they're going to search somewhere else. This is why improving your navigation and site structure is important not just for SEO, but for the user experience in general.
There are two main components of this tip. First comes improving the navigation, which can be done through adding something called breadcrumbs.
Breadcrumb navigation is a form of site navigation that shows users where they are within the hierarchy of a site without having to check the URL. Shopify has a quick guide on how to do this in your store. Breadcrumb navigation can also be seen in Google search results: See below for an example of how Nike does breadcrumbs: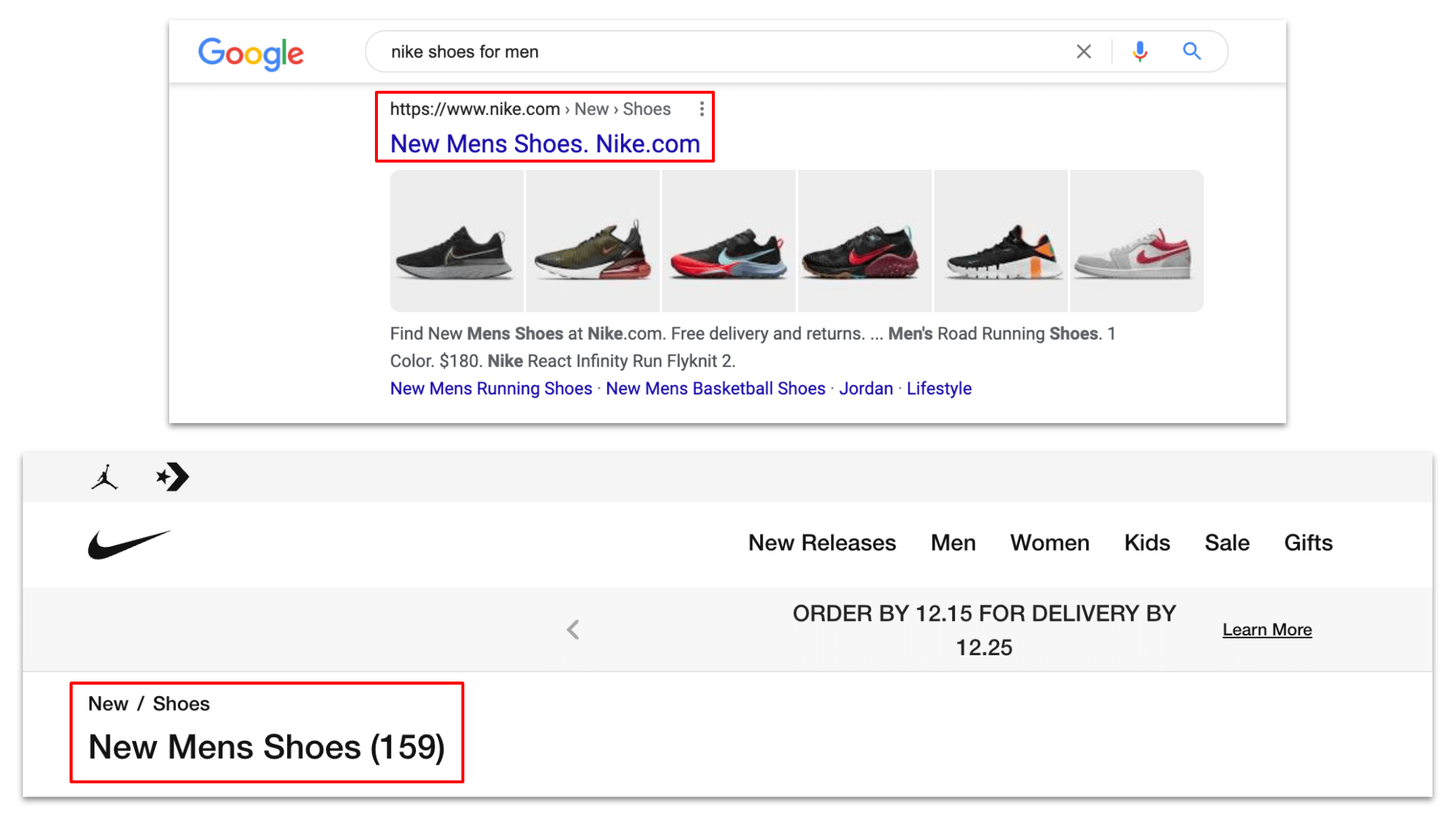 Next is URL structure. You'll want to aim for as neat URL structures as possible, but what does this look like? Take the example below:
Here is what a messy URL looks like:
https://www.privy.com/index.php?page=blog
Here is what a clean URL looks like:
https://www.privy.com/blog
Clean URLs are intended for both your visitors and Google to improve usability and accessibility by being intuitive and meaningful.
5. Clean up broken links and optimize your 404 page
Broken links have long been a negative in the eyes of SEOs. They don't just affect your website performance, but they impact the customer experience. If you're interlinking with broken product pages and categories, you're stopping users dead in their tracks. Some may stay and click around to new pages, others are likely to leave your site.
If you have an SEO tool like Ahrefs, Semrush, or Moz, you can easily discover all the broken links on your site and take time to resolve them. It's as simple as unlinking to them wherever they're linked. If you have a Shopify store, you can check out numerous broken link apps that should automatically resolve them.
However, if you miss a few broken links, it's not the end of the world. This is where an optimized 404 page comes in handy and can be used to navigate users to other parts of your website to discover new products. See the example below from Zappos:Instead of leaving users nowhere to go, Zappos uses its 404 page to assist or educate potential customers.
6. Keep your store secure with HTTPS
As a store owner, you collect personal information from customers after every purchase, every email sign up, and every SMS opt-in. You'll want to make sure that all their information collected is encrypted and safe.
This is obvious from a customer trust perspective. If someone's browsing your ecommerce store and doesn't feel safe, they may bounce somewhere else. In case you needed another reason to do this, Google declared HTTPS as a ranking factor for sites. Finally, most high-quality websites have already moved to HTTPS. The chart below by WeLiveSecurity shows the growth of HTTPS sites in recent years.
Luckily most ecommerce platforms offer SSL standards on their platform or make it easily available to purchase. While this is one of the more basic ecommerce SEO tips in this article, it's fundamental to the success of your online store.
7. Make page speed improvements
It has been known for a while now that Google has been prioritizing page speed as one of its ranking factors. From a practical standpoint, page speed is good for connecting buyers with the products they're looking for as quickly as possible.
Remember the previous stat referenced in this article about how 10-20 seconds is the average time users spend on websites before leaving? A slow page loading experience is a surefire way to hurt your traffic and SEO.
Creating an ecommerce website that loads quickly is easier said than done, so I listed out a few quick wins you can implement that should have an immediate impact on your page speed performance.
Reduce image file sizes
This can be accomplished in a few ways. If you have the budget, you can look into a Content Management System (CMS) to host your images, audio, and videos on. This should help reduce some of the stress on your website.
A budget-savvy way is to integrate with a file optimizing app. If you have a Shopify store, there are plenty of apps to choose from that range from freemium to paid.
Minimize CSS and JavaScript
Streamline your page speed by eliminating any unnecessary code and using shorter variables and functions. The fewer bytes of data needed to load your webpages, the better its SEO.
You can visit Google's free PageSpeed Insights tool to get an overview of the metrics they use to measure page performance.
Add lazy loading
Lazy loading is when your images, videos, and audio don't load until a user scrolls past it on your webpage, instead of loading everything at once. Since ecommerce websites often have lots of product images and videos, this is a great way to improve your SEO and performance immediately.
Some ecommerce site builders have lazy loading options available by default. Other sites you may be able to integrate a lazy loading app.
8. Optimize your store for mobile devices
Google announced in 2019 that it'll be crawling websites with its mobile device crawler. This basically means that it'll scan the mobile version of your website, weigh its performance against its benchmarks, and rank you accordingly.
While Google is notoriously secretive of how it crawls and ranks websites, there are a few things they're looking for, including:
Making sure your mobile and desktop versions contain similar content.
Making sure your images and videos are optimized for mobile viewing
Making sure your on-page ads don't inhibit the mobile experience.
One notable DTC brand that provides just as good of a mobile experience as it does desktop experience is Warby Parker. In the example below, we can see that all of its content, images, and navigation are easily legible and load quickly:

A good rule of thumb for ecommerce merchants is to review your pages on mobile before publishing them and make sure the content and browsing experience is similar.
9. Start a blog for your online store
A tried-and-true way to get more traffic to your online store is through blogging. While starting a blog can be a tall task for new brands, it can have longterm benefits. For example, your blogs can rank for a variety of keywords related to what you sell and the industry you're in. Your blogs are then used as a vehicle to drive views to your product pages, thus increasing chances at earning a sale.
10. Earn backlinks to your products, categories, and blogs
A backlink is when another website links to one of your products, pages, blogs, or other content. This signals to Google that this other site views your content as authoritative and figured it was worth linking to. The more quality and quantity of backlinks, the more likely you are to rank.
Backlinks are one of the most effective ways to scale up your ecommerce SEO and earn referral traffic from other websites. However, earning these links can be a tall task. There are a few methods for increasing your chances for earning links.
Guest write on other websites. If you have brand partners or are friends with people at other companies, see if their marketing teams will let you write for them. This is a near-guaranteed link back to your top pages.
Pay affiliate websites. If you have the budget, you can pay affiliate websites to list your products on their blogs. Yes, they'll earn a cut of each sale coming from their blog, and you may have to pay them to get listed, but this should get more visibility and sales to your brand.
Produce amazing content. You can earn organic links by creating content people want to link to. No brainer, right? Well, the standards for quality content are higher than ever. This page from The Sole Supplier that reimagines pop culture, education, and sports into shoe concepts is a great example of content that captures attention (and links).
For even savvier digital marketers, you can deploy advanced ecommerce link building strategies like broken link building, reverse image search link building, statistics roundups, and other methods!
11. Link internally to your products, categories, and blogs
While backlinks are harder to gain on your own or organically, there is a linking exercise you can do that can have more of an immediate impact on your ecommerce SEO. That practice is internal linking.
When you internally link to your products, categories, and blog pages, you pass link equity to that page. The more internal links pointing to specific products or pages, the more of a signal this is to Google that it should prioritize this page.
Not only is internal linking an SEO best practice, but there are signs that it works. In a test by Andrew Dennis of Search Engine Journal, he found that by internally linking to specific pages, he was able to increase their organic traffic. See his results below:
Aside from SEO, internally linking to your products in those "Top 10" or "How-to" blogs you write will help customers discover new products you provide. When they click-through and drive up your referral traffic, this creates a win-win situation for your brand.